Life Insurance
---
Why Purchase Life Insurance?
We've all heard about the importance of having life insurance, but is it really necessary? Usually, the answer is "yes," but it depends on your specific situation. If you have a family who relies on your income, then it is imperative to have life insurance protection. If you're single and have no major assets to protect, then you may not need coverage.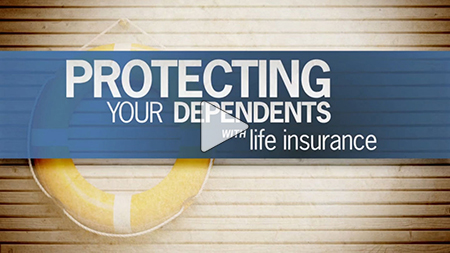 In the event of your untimely death, your beneficiaries can use funds from a life insurance policy for funeral and burial expenses, probate, estate taxes, day care, and any number of everyday expenses. Funds can be used to pay for your children's education and take care of debts or a mortgage that hasn't been paid off. Life insurance funds can also be added to your spouse's retirement savings.
If your dependents will not require the proceeds from a life insurance policy for these types of expenses, you may wish to name a favorite charity as the beneficiary of your policy.
Whole life insurance can also be used as a source of cash in the event that you need to access the funds during your lifetime. Many types of permanent life insurance build cash value that can be borrowed from or withdrawn at the policyowner's request. Of course, withdrawals or loans that are not repaid will reduce the policy's cash value and death benefit.
When considering what type of insurance to purchase and how much you need, ask yourself what would happen to your family without you and what type of legacy you would like to leave behind. Do you want to ensure that your children's college expenses will be taken care of in your absence? Would you like to leave a sizable donation to your favorite charity? Do you want to ensure that the funds will be sufficient to pay off the mortgage as well as achieve other goals? Life insurance may be able to help you meet these objectives and give you the peace of mind that your family will be taken care of financially.
The cost and availability of life insurance depend on factors such as age, health, and the type and amount of insurance purchased. As with most financial decisions, there are expenses associated with the purchase of life insurance. Policies commonly have mortality and expense charges. In addition, if a policy is surrendered prematurely, there may be surrender charges and income tax implications. Any guarantees are contingent on the financial strength and claims-paying ability of the issuing insurance company.
When getting life insurance it is also very important to know who your beneficiaries are. Picking the right beneficiary can be a big decision. The following article offers great advice on how to avoid making a mistake when choosing your beneficiaries: "10 ways to screw up when picking life insurance beneficiaries" by Barbara Marquand.
If you are considering the purchase of life insurance, contact us to explore your options.
Read My True Story
I was born in 1953 to a wonderful family that included loving parents, three brothers and one sister. We were a happy, thriving family until we heard the words that no one ever wants to hear—Cancer.
As teens and tweens, my siblings and I didn't realize how our life was going to be changing. My mother passed away on New Year's Eve when I was 15. I felt like someone just stuck a knife in my heart, and my life was turned upside down.
My father was older than my mother and never expected to bury his wife. My mother had no life insurance, and my father was faced with the daunting emotional, logistical and financial task of raising his five children—ranging in ages from 11 to 18 years old—alone.
My father worked for PECO and worked a different shift every six days. Imagine grieving the loss of your spouse and now being faced with these questions:
Who wakes us up for school?
Who makes breakfast and lunch for us?
Who is going to greet us at the front door at the end of the school day?
Who is going to help us with homework?
Who is going to prepare dinner for us?
Who is going to clean our clothes and the house?
Who is going to be there when I need a hug or a good shoulder to cry on?
Will we never again spend quality time together?
The list went on and on. Within two months, my father asked his sister, our beloved Aunt Mary, to move in with us and help with literally everything. She responded without reservation and became a part of our immediate family.
My father stressed the importance of going to college, but he did not have the savings or income to pay for our college education. I worked a full-time job during the school year plus another full-time job during the summers between semesters in order to minimize college loans. Fortunately, by the end of my senior year, I was debt-free, but also cash poor.
After graduating, I worked in Corporate America for 30 years helping corporations improve cash flow and increase their profitability. I wanted to give back to the educational community that had been so important in my life, so I began teaching accounting and finance in the MBA program at my Alma Mater, LaSalle University.
I realized it was time to share my story and follow my passion of helping others save cash and make an income plan for retirement, so I founded GJO Financial. AT GJO Financial, I help individuals and families prepare for the unexpected by developing a financial strategy that protects their assets and uncovers retirement income needs so they may move toward retirement with confidence that if life takes an unexpected turn, they are ready and protected.
I'd love to share more information with you or your friends and loved ones who might benefit from my story and expertise.
1"Facts about Life 2013," Life Insurance Awareness Month, LIMRA, September 2013.
The information in this article is not intended to be tax or legal advice, and it may not be relied on for the purpose of avoiding any federal tax penalties. You are encouraged to seek tax or legal advice from an independent professional advisor. The content is derived from sources believed to be accurate. Neither the information presented nor any opinion expressed constitutes a solicitation for the purchase or sale of any security. This material was written and prepared by Emerald. © 2015 Emerald Connect, LLC